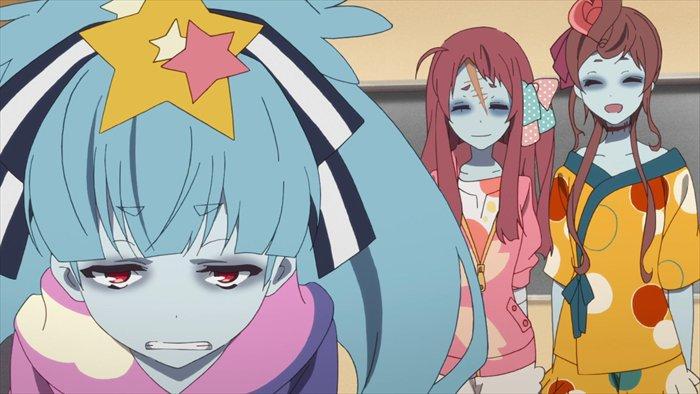 Zombie Land Saga – Episode 1 & 2 Review
Less Flesh Eating, More Heart Melting
Zombie Land Saga takes a hard twist in episode one. First you believe this is your regular old high-school girl focused show. Minamoto Sakura is just your regular old second year high-schooler. Then she gets hit by a small truck and dies. Quite the dramatic twist.
Beyond the opening of the show, Zombie Land Saga is rather charming and extremely funny. The overall premise is that Sakura, our lead of the story, has died, sadly, and now is resurrected ten years later as a zombie in order to lead a pop idol group. A zombie pop idol group set to put the Saga prefecture on the map. If you are unfamiliar with the Saga prefecture of Japan, you would be remiss to know that is is small and has a small population. That is all of course according to local Saga expert, Tatsumi Kotaro.
Death Musume, Green Face & their Manager, Tatsumi Kotaro
This idol group built of zombie teen girls is not for its humorous leader, Tatsumi Kotaro. He is very selfish, arrogant, and extraordinarily hilarious. As far as we understand, he is the one to raise and assemble this potential super team of zombie idols. It is unclear at the moment if his ulterior motives are as simple as making the Saga prefecture more desirable to visit and live in, or if he has something else up his sleeve. Regardless of his actions, he is absolutely the funniest member of the cast. Something about the way he carries on like his situation isn't mystically bizarre.
The first two episodes we have seen the idol group under Kotaro go by two names, Death Musume, which I favor, and Green Face. Their two shows as a group, they have shown an uncanny knack for turning a dire situation into a rocking good time for their local fans. In the first show the group is mostly still unawaken and unaware that they are idols or even performing. During their second show an impromptu rap battle sparks the group. At this point most are awakened and aware they are actually zombie idols.
The group of zombie idols is an interesting mix of girls brought back from the dead. It has a biker boss, and 80s idol, a Meiji era coutesan, a child actress, a 00s idol, and a "legendary" idol. Hopefully we will find out what a "legendary" idol is later since Kotaro doesn't seem keen on enlightening us. For reference, here is the group –
Minamoto Sakura – Leader
Tatsumi Kotaro – Manager
Nikaido Saki – Biker Boss
Konno Junko – 80s Idol
Yugiri – Courtesan
Hoshikawa Lily – Child Actress
Mizuno Ai – Heisi Idol
Yamada Tae – Idol
Music Saga
Both of the first two episodes have covered two very different genres of music that really wouldn't be considered for an idol group. Hopefully we can see the group continue to evolve their range in musical talent as they awaken their inner zombie spirit. The first two episodes show promise of a rather comical series that seems to have a plan. Let's hope that Minamoto Sakura can regain her memory and wrangle her fellow idols in time for the next big show.

[Source]
[Images via Twitter]