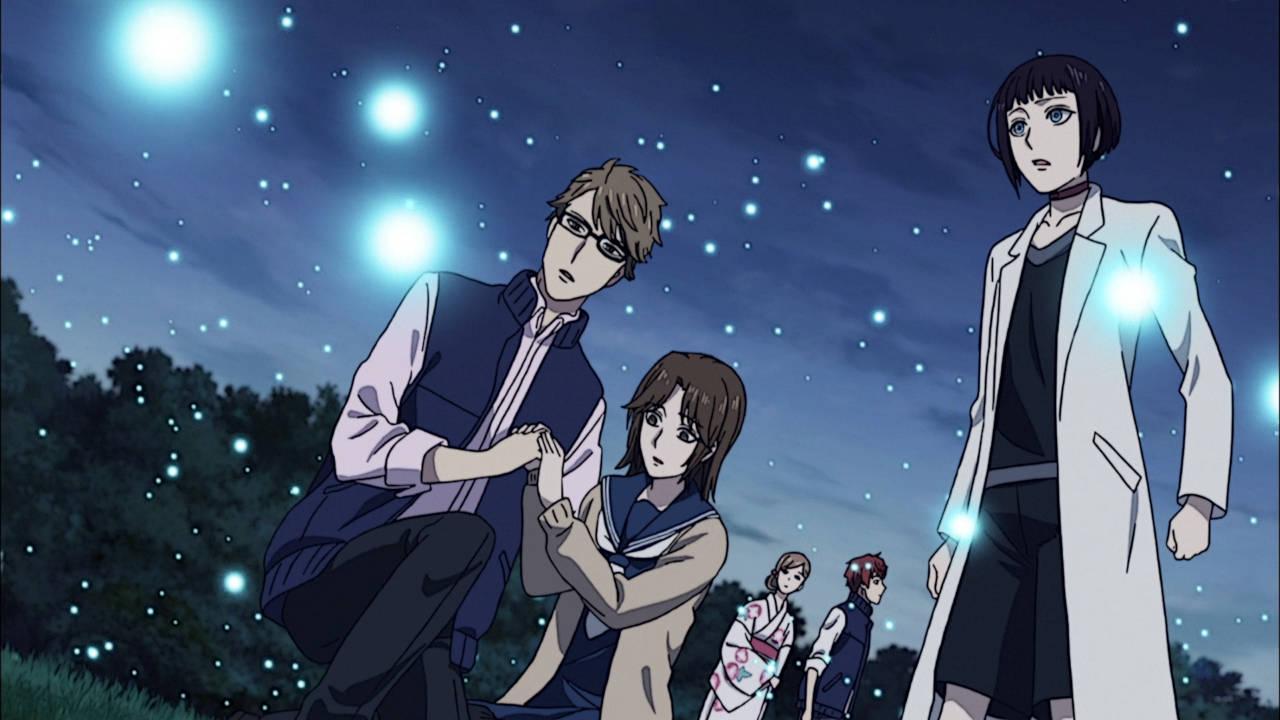 Azazel // Occult Koumuin Ep. 7 Review
Sense of Loss and Proof of Despair: Mayonaka no Occult Koumuin Episode 7
This episode really highlights what I believe is the budgetary problem of the show. Mayonaka no Occult Koumuin episode 7 brings together a lot of interesting ideas the show has presented. It just feels off watching some of the animation look so stilted, and some of the characters looking rather plain even in the forefront.
Episode 6 really upped the ante in terms of the stakes and episode 7 brings Sakaki's plotline to a close. One of the biggest story beats leading into this episode was the disappearance of Sakaki's sister. We just found out she has been gone for over 17 years at this point in the story, and some new evidence points to her whereabouts.
Sakaki's Negotiation
Now that Sakaki's plan is out in the open, Seo can take him to task. He wasn't being honest with Arata, and now there there are consequences to face. Another woman has been abducted. According to Kohaku, they are only a day away from the plan coming to fruition.
With the plan in motion everyone is in a frenzy to find the entrance to Hell. If they get to Hell hopefully Sakaki can negotiate with the demon and rescue the girls, and maybe finally save his sister. What negotiating with a demon will look like is a huge part of why Seo is frustrated with Sakaki. Its dangerous to do it even though we haven't really seen the consequences of that yet.
It all boils down to a quick montage based on some off-screen information about stuff that wasn't foreshadowed to get to the entrance to Hell. The entrance to Hell is also apparently right outside of an all girls highschool in Japan. It feels convenient and a bit rushed. They do explain away its location in that there are many entrances to Hell. All being guarded by the classic guardian Cerberus.
Cerberus, Azazel, and the Mystery Demon
Like the previous episode it is interesting to see the different mythologies being pulled together to build the world of Mayonaka no Occult Koumuin episode 7. Cerberus is the classic three headed hound guardian of the Greek underworld. Azazel is a fallen angel of Judaeo origin. Kohaku is a god of Aztecan belief. Seeing it all mixed and matched together makes it interesting to see a world where all these beings exist and how they interact.
As it turns out from Azazel's origin mythology, he is trying to resurrect a fallen human lover. By abducting women from around the world he is piecing her back together again. It is not meant to be though. The final piece of his puzzle, Shiori's eyes, are still wrong, and the woman rejects Azazel. All but her spirit is destroyed, and he goes back to work on repairing his love. Once again the Community Relations Division doesn't really have an impact on the resolution. The Another will solve their own problems for them.
Shiori's Return
I feel like Mayonaka no Occult Koumuin episode 7 has an opportunity to have a poignant moment and misses. Sakaki is able to rescue and return his sister Shiori to the world seventeen years after her disappearance. She has lost the use of her eyes at this point because Azazel stole it to use for his dead love. If the show leaves her blind then it would feel like there are consequences to the world, and that the Another are not to be trifled with. Seo made a point in the beginning of the episode that Another are dangerous. Every time they walk away with problems make it feel like there really isn't much point to their job.
Having Sakaki spend seventeen years of his life to get his sister for her to not be able to see him would be bittersweet. It could be a driving force for the show to follow. With the easy return of her eyesight it makes the episode feel empty. There is a lot of great stuff with the show, but the lack of consequences is dragging it down. We have solved what appears to be most of the major plot points up to this point. I hope the next couple of episodes can bring some consequence to the show.
[Source and Further Reading]
[Episode 6 Review]
[Image via Crunchyroll]